Update #12: Partnerships, Tree Nursery & Spring planting
/ May 25, 2022
Quick links
A lot has happened since our last update in January. I want to share exciting news from the last months and give an update on our new partners and progress we're making on the tree nursery & planning projects.
Partners & Donors
There is some incredible fundraising news to share with you and I can't stress enough how thankful the whole team is for your support. Your generous donations enabled us to progress toward our goals and without you it would not have been possible. The donations in 2022, so far, came from three main sources.
Motorcycling community
The motorcycling community & individual donors (55) donated €1 917 so far in 2022.
First and foremost, I have to thank the Valle on Tour and a global motorcycling community which continues their incredible support for the Trees for Lurë.
I've welcomed Valle to Lurë and we embarked on the difficult TET section visiting the lakes. It was his hardest off-road experience (as he puts it). He enjoyed both the beauty of the Lurë National Park as well as its challenging roads and saw the destruction of the forests first hand during our little adventure.
I'm incredibly happy that the Lurë episode from Valle's YouTube series on the Balkans has reached so many riders around the world. It was wonderful to speak to many of you on the 5-hour (yes!!!) long livestream during the episode's premiere.
If you are inspired to visit Albania or want to see our work, don't hesitate to reach out to me, I'm more than happy to show you around.
T-Shirt King & Button King partnership
In March the T-Shirt King & Button King donated €3 090.
I'm very happy to announce our partnership with the T-Shirt King & Button King from Germany. They decided to support Trees for Lurë by donating one tree for every order on their both websites made during March, April & May 2022.
T-shirt King focuses on operating their business in the most sustainable way they can and supporting Trees for Lurë helps them to achieve this goal. They choose to work with us also due to the transparent way how we operate and our positive impact on the local communities.jj
Fry-IT, Ltd. partnership
Fry-IT, Ltd. donated £10 000/€11 873.
Fry-IT from the UK supported our activities already in 2021. They have decided to step up their support this year after last the year's success.
The fact that we managed to successfully plant 2712 trees and channel huge amounts of funds to the local community, has been one reason.
More importantly, however, Fry-IT is incredibly keen on our efforts to establish the tree nursery directly in the Lurë area so that we can grow our own trees and expand our local community impact.
Thank you for your trust!
I'm very pleased that the main reasons for the new partnerships were our transparent practices and capacity to deliver on our promises.
It has not been trivial to provide this degree of transparency, acquire permits and to comply with all regulations and restrictions. All this hard work paid off and I'm incredibly proud Trees for Lurë can be a trusted organisation for our partners.
Trees for Lurë tree nursery
Second major news I want to share is the start of the crucial (and I can't stress this enough) project of establishing the Trees for Lurë tree nursery in Fushë Lurë.
More information about the way the nursery is operated, which trees we will grow and all the nitty gritty details will follow in a separate update for full disclosure. In this update I want to focus on the incredible importance of this project to the Trees for Lurë.
In our opinion, the tree nursery is the foundation of the sustainable operations of Trees for Lurë and reforestation efforts for the Lurë National Park. Our tree nursery will solve many issues we have faced and still do while working on reforestation in the Lurë National Park. To highlight some: legal issues, suitable sapling supply shortage, economic sustainability of the planting operation and local community involvement and job opportunities.
Simple fact is that we are not allowed by the AKZM & AdZM Dibër to plant trees in the highest protected areas of the Lurë National Park due to requirements put on the planting material regarding its origin, quality and nursery altitude. To put it simply, there is no suitable supplier in Albania to meet those requirements and our nursery solves this issue.
This year we will establish a nursery with a test capacity of 5 000 saplings of Pinus Nigra which we're allowed to plant (according to approved project) in the area we already planted in 2021. The seeds and the soil for our saplings come directly from around our planting area.
Most importantly however, our tree nursery is located at the altitude of 1 060 a.s.m.l. which is a huge difference compared to other nurseries which were around 280 - 390 a.s.m.l. This means we are growing our trees in the same climate where they will be planted. This is crucial for the survival rate of the trees we plant which directly impacts the economy of the whole reforestation operation.
The tree nursery will create new job opportunities for the local community. Trees for Lurë will contract local teams for most activities ranging from daily nursery care to seed collection, planting area preparation and maintenance which will have a huge positive impact on the local economy.
If everything goes incredibly well, we could plant our trees already in Autumn 2022. That is quite optimistic and we have learned in past years that many things can go wrong, so, if we have trees ready for the 2023 season, I will call it a great success!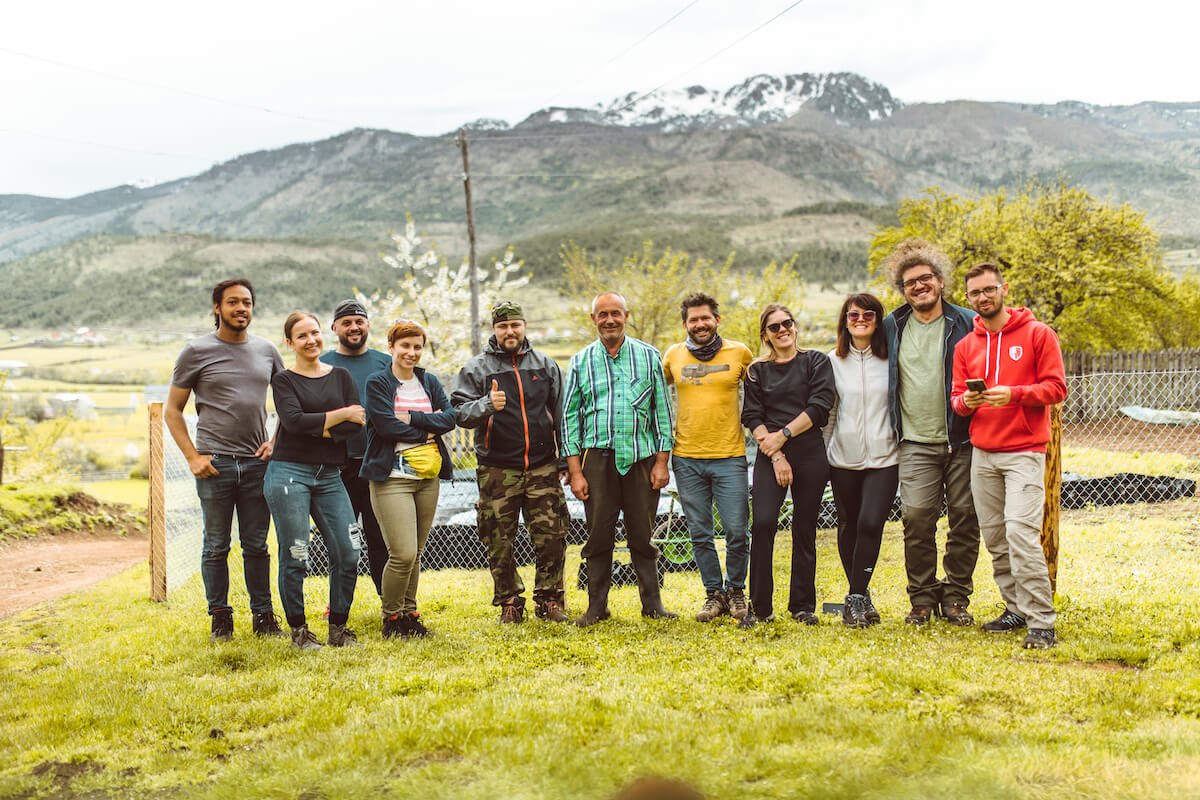 Spring planting
Our plan for 2022 was to split the planting activities for easier logistics between spring and autumn. We went to Lurë during the Pinus Nigra planting season, to find a lot of snow and very cold conditions in our planting area. Spring planting is incredibly unpredictable in the mountains such as the Lurë National Park because it all depends on the weather during the very short planting season.
We decided - after numerous consultations - to abandon spring planting due to the high risk of low survival rate of the trees we would plant. As we have to (until the nursery is operational) source trees from low altitudes it is very risky to plant them in early spring due to the weather.
Taking into account all the facts, the risk was too high as the spring planting could easily turn into just wasting money. The funds are now much more useful for establishing the tree nursery.
On behalf of the whole team,
Pavel
Archive